Navigating Power and Emotions
Young kids are essentially powerless. Their rights are few and their capabilities limited, making the parent–child relationship significantly unequal. The size difference only accentuates this. Lack of language ability and limited vocabulary are also contributing factors. Babies and toddlers see their parents as gods, but in the next few years this viewpoint starts to fade. Use your short time as a deity in a benevolent way!
Children gradually gain power as they grow to adulthood, a process that takes most of us about twenty years. Early childhood in particular is full of friction. Once a child is not a baby anymore, he magically forms his own opinions and asserts his individuality and newfound power through actions and words. Adults typically feel challenged by this and react by trying to control the child. We say things like, "Don't talk to me like that," or "You stop that right now!" These responses only fuel the fire and lead to power struggles. And we often feel bad after those whether we lose or win. To feel secure, little ones actually want to know there are limits. Imagine yourself driving across a high bridge with no railings—it would be scary. Assuming there are guardrails, we don't crash against them to test their strength, but small children do the equivalent of this. They will check out a restraint, perhaps banging on a baby gate to see whether it holds. Kids also test verbal limits. Toddlers in particular need to know, Does she really mean it?
Young children typically regard limits as circumstantial. If you tell a small child "no hitting" when she hits a friend, she doesn't understand this as a universal rule. You'll need to say it again when she wallops the cat. And even if she understands not to use potty talk at home, it may not carry over to preschool. So when a little one tests various situations, don't assume that she is just being obstinate. And this is also a great time to try playful parenting or insert humor into your relationship.
Because limits need continued reinforcement, it is wise not to set too many—and to establish good child-proofing. Putting a barricade in front of the fireplace or keeping your pocketbook out of reach eliminates the need to make rules about these off-limits things. If kids have less to push up against, they will push less. This is the paradox of power. Children grow and learn best in the least restrictive yet safest environment we can provide.
Just as children need limits, they want and need to experience personal power. This means the feeling of being able to take action, to know that one's words will be listened to and one's individuality acknowledged. A child will feel powerful when he learns new skills such as walking and talking. The sense of achievement is written all over his grinning face when he triumphantly toddles across the room without your help. While we might assist a child in learning to walk, the success comes through his own effort. It's very important that a child's natural can-do attitude is not thwarted in the early years. Allowing kids to make and then correct mistakes is empowering for them. But it can be hard for grown-ups to watch the try-fail-persevere-succeed cycle. A little frustration can motivate a child, although parents and caregivers should not be hands-off when kids are in an unsafe situation or are very upset. Talk to a little one about her efforts: "You keep trying to get up that climbing wall even though you've slipped three times. You'll get the hang of it soon." If frustration is mounting, you can offer to help, but always ask first and respect a "no" answer if you get one.
Young children have little power over their lives, but that doesn't mean they don't want it! It can be annoying to always have grown-ups telling you what to do, and when and how to do it. Think of ways to give kids some choice in their daily lives. The empowerment that comes from having a choice can also be incorporated in setting a limit: "Instead of picking the flowers, you may rake leaves or hunt for bugs. Which would you like to do?" There are many situations that leave a child feeling helpless, perhaps angry, and he really has no choice in the matter. This is a perfect opportunity to allow a child to offload their tensions by crying and raging. If you can keep from taking the upset personally and simply hold the space for the feelings, they will move through the child and leave them in a more regulated state.
By avoiding power struggles with kids, encouraging their "do it myself" attitude, and finding new ways to offer choices, adults can guide children to feel their own power in meaningful and healthy ways.
In the comments, please let me know what you think about setting limits or supporting the power in children's lives.
Special Giveaway!
Please comment on this post to enter in the eBook Giveaway — to win an ebook copy of What Not to Say: Tools for Talking with Young Children, in the format of your choice: PDF, epub, or Kindle format. Sarah will be giving away one copy at each blog stop and will announce it on the comments of this post tomorrow. Be sure to leave your email so we can contact you in case you're the winner!
Other stops and opportunities to win during this Blog Tour are listed on Sarah's blog here: http://sarahsbalancingact.blogspot.com/p/blog-tour.html
Also, you can enter at Sarah's site for the Grand Prize Giveaway: a Kindle Touch. Winner will be announced at the end of the tour after July 15th. Go here to enter: http://sarahsbalancingact.blogspot.com/p/blog-tour.html
About The Author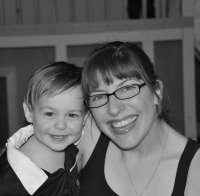 Sarah MacLaughlin has worked with children and families for over twenty years. With a background in early childhoodeducation, she has previously been both a preschool teacher and nanny. Sarah is currently a licensed social worker at The Opportunity Alliance in South Portland, Maine, and works as the resource coordinator in therapeutic foster care. She serves on the board of Birth Roots, and writes the "Parenting Toolbox" column for a local parenting newspaper, Parent & Family. Sarah teaches classes and workshops locally, and consults with families everywhere. She considers it her life's work to promote happy, well-adjusted people in the future by increasing awareness of how children are spoken to today. She is mom to a young son who gives her plenty of opportunities to take her own advice about What Not to Say. More information about Sarah and her work can be found at her site: http://www.saramaclaughlin.com/ and her blog: http://sarahsbalancingact.blogspot.com.